2023-2024 Credo School Profile
CEEB: 054502
1300 Valley House Drive, Suite 100
Rohnert Park, CA 94928
Main office: 707-664-0600
Website: www.credohigh.org
Executive Director: Andrea Akmenkalns
Education Director: Roel Op 't Ende
School Counselor: Diana Wuerthner
In 2021, Credo High School received recognition as a California Distinguished School by the California Department of Education. Credo is a tuition-free, college-preparatory, public charter school inspired by Waldorf education, and serves 410 students in grades 9- 12. Credo graduated its first class in June of 2015.  As an innovative public charter school of the Cotati-Rohnert Park Unified School District, Credo offers a writing-intensive academic curriculum that exceeds University of California ("A-G")  admission requirements and includes a full complement of enrichment subjects including Spanish, Mandarin, visual, practical and performing arts and social-emotional learning. 
Credo offers a college preparatory high school program that continues the education of graduates of the North Bay's Alliance for Public Waldorf Education grade schools. Credo, the largest Waldorf high school in the U.S, is committed to the core principles of public Waldorf education and teaches and models social, environmental, agricultural, economic and personal sustainability. Credo is the first and only One Planet Living High School in the world with an action plan certified by Bioregional in the UK. 
Credo is accredited by the Western Association of Schools and Colleges (WASC), and is now the first and only Association of Waldorf Schools of North America (AWSNA)-certified public Waldorf high school in the country. The percentage of Credo students meeting or exceeding standards on state tests is well above both county and state averages.
The percentage of Credo students meeting or exceeding standards on state tests is well above both county and state averages. The most recent testing data available is from the spring of 2022/23.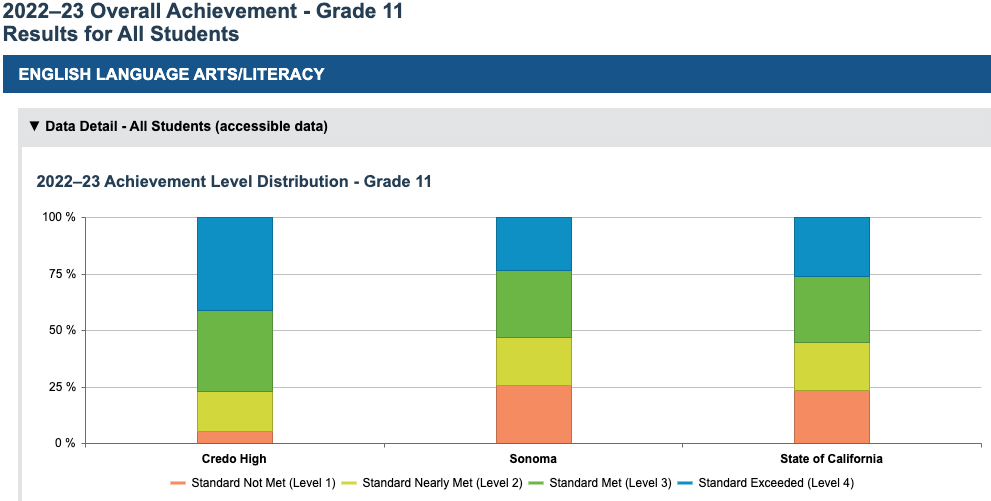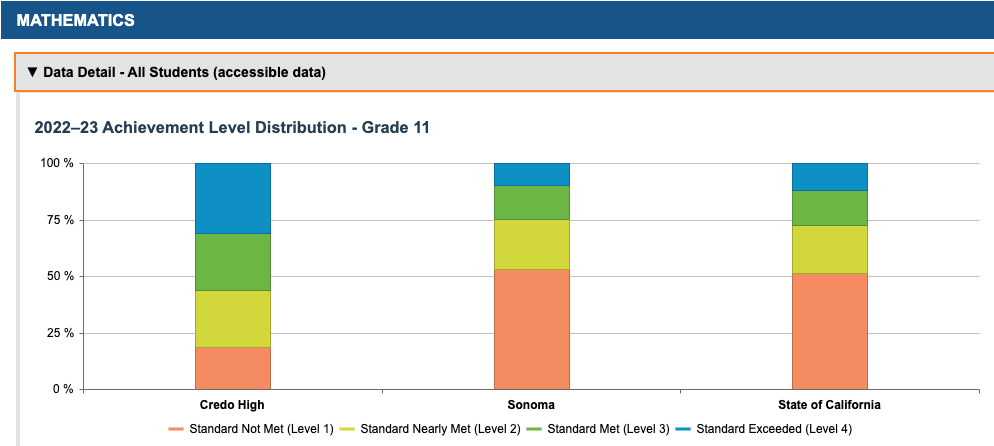 In the 2020-21 school year Credo moved from a trimester system to a semester system. Each school day includes a rotating main lesson focusing on English, the sciences or history/social studies. Math, music and world language classes are all year long. All students are required to take four years of math – either beginning with Algebra I and culminating in pre-calculus or Functions/Statistics/Trigonometry; or beginning with Algebra II and ending with calculus. Science is integrated and all students study physics, chemistry, biology, and environmental science all four years. English and social studies are writing-intensive and emphasize critical thinking and research skills. 
Our English program is writing-intensive, incorporating both formal writings (emphasizing rhetoric, thesis-driven essays, and conventional structures) and personal/creative writings (exploring voice, engagement, and artistic form). 
The following is a representative sampling of authors and movements assigned over the four-years of English at Credo: 
9th grade: Jason Reynolds, Elie Wiesel, Lorraine Hansburry, Shirley Jackson

10th grade: Chimamanda Ngozi Adichie, Oscar Wilde, Homer, Miranda July, Octavia Butler, and a survey of modern and contemporary poets from Langston Hughes to Ocean Vuong

11th grade: William Shakespeare, Dante Algheri, Toni Morrison, Junot Diaz, F. Scott Fitzgerald, Ken Kesey, George Saunders, Sandra Cisneros

12th grade: 19th century British and Russian Literature, James Baldwin, Joan Didion, Jia Tolentino, the Transcendentalists, the Existentialists 
Academic rigor and expectation is high for all classes; Credo does not offer honors or AP classes. 
A minimum of 250 credits is required for graduation. In addition, all students must complete at least  100 hours of community service. 
Grades during Covid and AB 104
During the spring of 2020 all students were graded on a C/NC system. In an effort to support our students through the emotional and technological challenges of Covid, and to be as equitable as possible our school policy for spring 2020 was that no students would receive letter grades. As of fall 2020, we have resumed using letter grades. 
**As per California's new law, AB 104, students were able to choose Pass/No Pass, and/or graduate as long as they met California's high school graduation requirements, even if they did not meet Credo's graduation requirements.
Credo does not assign class rank.
Grade Point Average (GPA) Calculation
Credo grades students on a scale of 0-4.33, with 97-100 earning a 4.33. A grade of 70 is required to pass and no "D" grades are given. Beginning in grade nine, all graded subjects, whether passed or failed, are included in the computation. There are no weighted classes. Grades are recorded on the transcript and GPA is computed in January and June.
Credo's class of 2023 had 75 graduates. Of them, 75% were college-bound (67% of those matriculated at four-year colleges, 8% are attending two-year colleges), and 25% entered the workforce or took a gap year. Ninety two percent of graduates qualified for admission to the University of California. College acceptances can be found under the College Acceptances button on our website.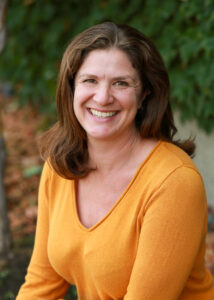 Diana Wuerthner, College Counselor: diana.wuerthner@credohigh.org – 707-794-6017